How Does the EduKit Program Work?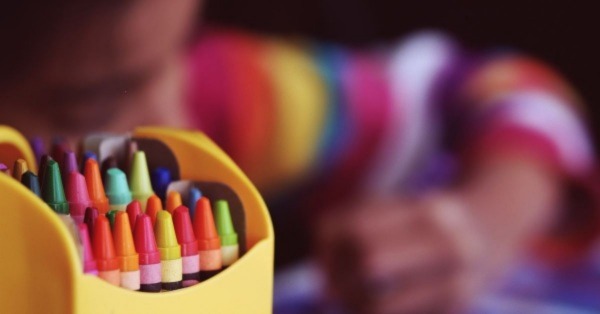 Welcome to EduKit, the intersection of convenience and quality. We understand the stress that back to school shopping can create for everyone. From finding the correct type of binder for each class to agonizing over which calculator your child needs to thrive, it can quickly become a taxing experience.
We all know it's important that every student has the school supplies they need to be successful right from the get-go. That's where we come in! Here at EduKit, we are proud to offer 100% customizable school supply kits that match your teachers' lists exactly — parents love the convenience, teachers are ready to instruct from day one, and students have high-quality school supplies included in every kit!
Our back to school supply kits can be customized to fit the needs of every grade level, from kindergarten through high school. Look below to learn more about the process, then set your school up for success with EduKit's school supply kit today!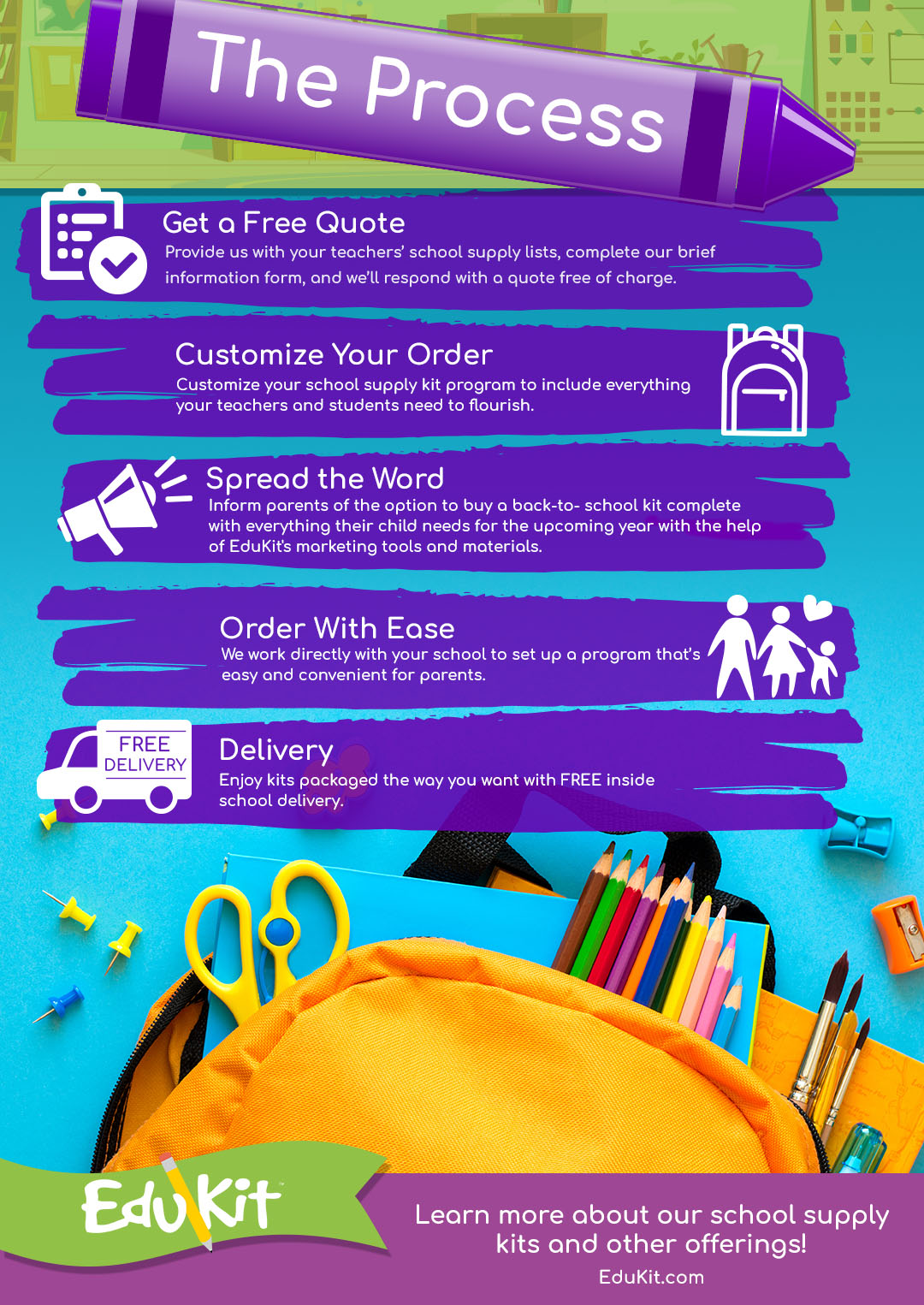 1. Free Quote
If you are interested in signing your school up for our state-of-the-art school supply kit program, begin with a free quote. Simply provide us with your teachers' school supply lists, complete our brief information form, and we'll respond with a quote free of charge.
2. Customize
We will partner you with a dedicated account manager who will be by your side throughout every step of the process. We pride ourselves on providing a "wow!" experience to every customer, and that can't be done without our passionate, committed team which helps you customize your back to school supply kit program to include everything your teachers and students need to flourish.
3. Spread the Word
Now that you have received and approved your quotes and worked through the details of your program with the help of your dedicated account manager, it's time to let parents know how easy their back-to-school shopping will be this year! EduKit provides everything you need to easily inform parents of the option to buy a back-to-school kit complete with everything their child needs for the upcoming year. From custom flyers to colorful posters and web banners, getting the word out about your back to school supply kit program has never been easier.
4. Order With Ease
Calling all parents — the hours of sifting through various notebooks, folders, pens, and more trying to determine if they're correct for your child are over! We work directly with your school to set up a program that's easy and convenient. Not only will you be ecstatic about the ease of the program, but you can also rest assured that your students will be equipped with high-quality, long-lasting products from leading brands and more than 200 suppliers.
5. Delivery
Now it's time to see the incredible results for yourself. Our kits are delivered FREE directly to your school. Back to school supply kit distribution is a breeze with our tips and color-coded labels applied to each box. Want your kits delivered directly to parents' homes? No problem, we can do that, too!
With EduKit, everyone wins. Students are sure to enjoy the variety of brand-name school supplies, parents love the ability to save time and money on their back-to-school shopping, and teachers will have a classroom full of happy, prepared students.
To learn more about our school supply kits and other offerings, visit our programs page today. If you're ready to sign your school up for success, fill out your free quote and begin customizing your school supplies. We can't wait to get started!