When Hot Chocolate Season Arrives, Try These Fun Recipes to Make with Your Kids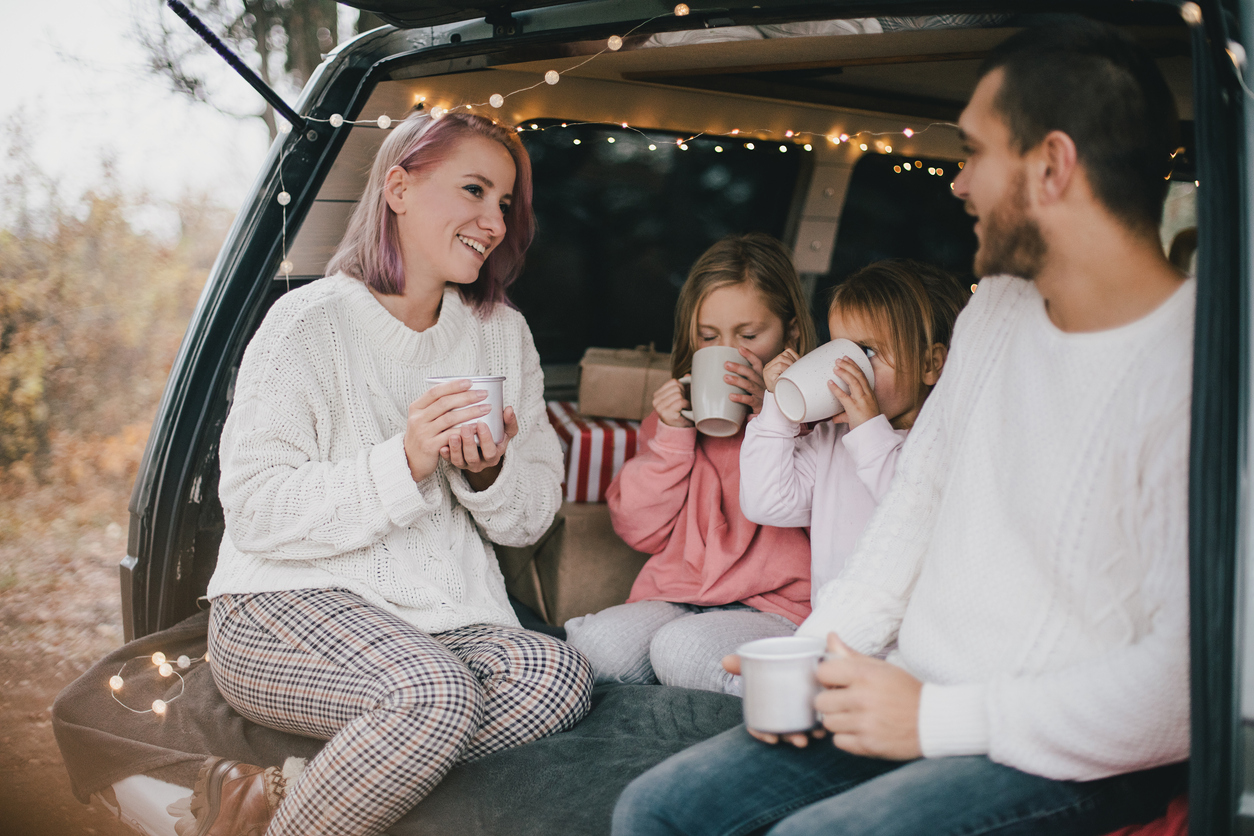 When Hot Chocolate Season Arrives, Try These Fun Recipes to Make with Your Kids
When the air turns nippy, kids' thoughts often turn to one of their favorite cold weather drinks: hot chocolate. And because getting kids into the kitchen creates healthy eating habits and is just plain fun, parents are constantly in search for recipes that are little-hands friendly.
Slow Cookers Offer Safety and Yum Factor
We always stress safety first with our kids, so slow cookers or crock pots offer perfect alternatives to the traditional stove top method when choosing how to make hot chocolate with your kids. This process also gives kids the sense that they are really cooking up a delightful mixture, since the bowl to most slow cookers is nicely deep and wide.
Hot chocolate recipes for kids can be just as delicious as those intended for adult palates, like this yummy version:
1 14 oz. can sweetened condensed milk
6 cups low-fat milk
2 cups chocolate chips
Combine all ingredients in a slow cooker and whisk until they are combined, then heat until the mixture reaches the desired temperature. Top with whipped cream.
For this hot chocolate recipe for kids, children as young as two can help by pouring or scooping in the chocolate chips then whisking away. Older children can measure and pour in the more delicate ingredients and even help determine when the mixture is ready to be served.
Fun on Top of Fun: Food Craft
Many hot chocolate recipes for kids offer the perfect opportunity for kids to make a cozy drink for the whole family. Here are some ideas for how to spend a chilly afternoon in the kitchen making hot chocolate for kids plus its accompaniments:
Yummy hot chocolate with Chocolate Covered Marshmallows will elicit lots of fun and giggles during the production process. Make hot chocolate in a crock pot using the above recipe. While the hot chocolate is warming, assemble the marshmallows by taking 8 jumbo marshmallows and dipping them in 1 cup of melted semisweet chocolate chips and then in crushed candy canes. Push a straw through each marshmallow before the chocolate hardens. Young children can help with every step of this recipe except for dipping the hot chocolate into cups, but they can do the fun part -- adding the marshmallow to the cup.
Food Gifts that Kids Can Help Make
Kids love creating these Mini Mason Hot Chocolate Jars complete with chocolate stirring spoons to give as gifts during the holiday season. Little hands are perfect for helping to layer in drink mix, marshmallows, chocolate chips, and peppermints in this hot chocolate recipe for kids. The adorable chocolate spoons begin life as dessert spoons in a discount store like Marshall's before ending up as part of this treat.
Hot Chocolate Hacks
When you're time challenged and wondering how to make hot chocolate for kids in a hurry, remember these quick tricks:
Melt chocolate ice cream. Yes, it's all the same: milk + cream + chocolate = yum.
Drop a chocolate truffle into hot milk and enjoy the divine creation that results.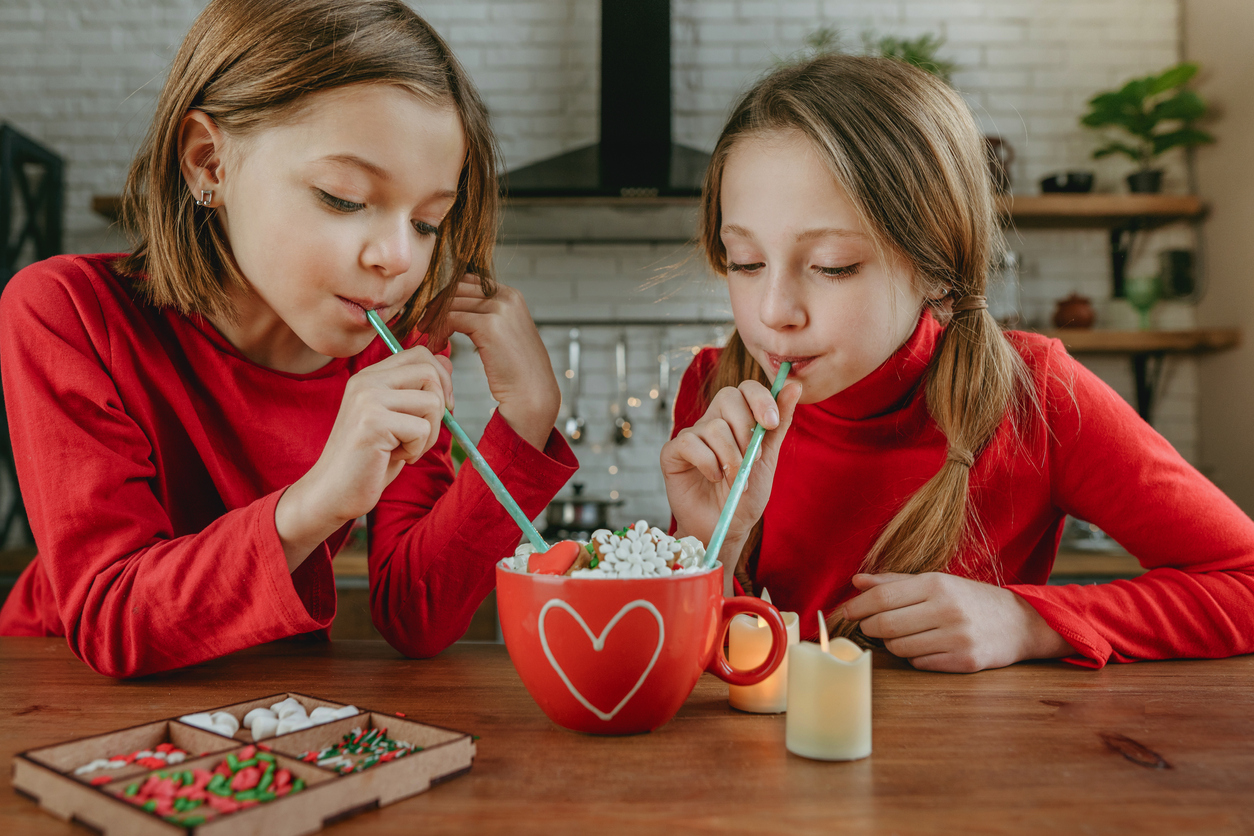 A Hot Chocolate Bar for Kids Will Make You a Legend
For the holidays, you can turn hot chocolate into more than a beverage by coming up with hot chocolate bar ideas for kids. Make the occasion a simple after school get together for your kids and their friends or an even bigger party for an extended family get together. Whatever you decide, start with decorating.
Go through your holiday decorations to see what will work for your hot chocolate bar, then pick up some fun plaid table runners and scarves at the dollar store for your base layer. Glass mugs can also be found at the dollar store and be used for other events, cutting down on waste. Use a cutting board in the hot chocolate creation station to contain spillage from any overexcited hot chocolate crafters.
Other items you'll need before you get to the yummy stuff include napkins, plates, and stir sticks or spoons. Why not make the spoons part of the fun of a hot chocolate bar for kids by offering candy canes as spoons or by dipping wooden spoons in chocolate?
After you've decorated and taken care of tableware, it's time to decide what toppings and treats to offer. Here are some popular choices:
Marshmallows (both mini and large, in a variety of flavors)
Chocolate chips, white chocolate chips, peanut butter chips, butterscotch chips...you get the idea
Candy canes – whole for stirring, crushed for sprinkles
Caramel – sauce and caramel bits
Toffee bits
Pretzel sticks
Chocolate syrup
Whipped Cream (The can is easiest, but fresh is tastiest.)
Sprinkles
Cookies (A non-chocolate variety like Snickerdoodles might be a good choice.)
Brownies
These add-ins and treats will bring your hot chocolate bar ideas to life, but to blow their minds, you need hot chocolate bombs on your table. You can make or buy these hot chocolate bombs, just be sure you have them on offer if you're not planning on making a big pot of hot chocolate beforehand. Hot chocolate bombs are shiny chocolate balls filled with hot chocolate mix, marshmallows, and extras like chocolate candy or peppermint that you submerge in hot milk and are a mess-free way how to make hot chocolate for kids.
Once you have your hot chocolate bar ingredients and materials assembled, you must decide where to set up. For a more elaborate gathering to put your hot chocolate bar ideas to the test, a table will probably be best, but for a kids' after school snack fest, a corner of the kitchen will work great. Just make sure you don't crowd your offerings and that everyone has room to choose what he or she wants. Don't forget you'll need room for the slow cooker of hot chocolate and/or carafes of hot milk.
Check Edukit for Other Ideas
Whether you corral your family into the kitchen to whip up a new, yummy hot chocolate recipe for kids or you pull off a hot chocolate bar fit for a party at Gatsby's, everyone will love your seasonal offerings. Edukit, a school supply kit company, offers links to more great ideas on activities parents and kids can do together as well as healthy snack ideas. When it comes time for the kids to head back to school, check out Edukit for the best deals on school supply kits for the whole classroom!