Family Activities to Do Before School Begins
With the school year right around the corner, life is about to get a bit more hectic for families throughout the nation. However, that doesn't mean we should just rush through the final glorious days of summer break! If anything, it's time to enjoy these last few weeks more than ever.
Between school, sports, work, and countless other responsibilities, the fall can become one of the most action-packed seasons of the year and leave you without much free time. If you're still looking to get the most out of the last days of summer break, check out these five easy family activities to do before school begins!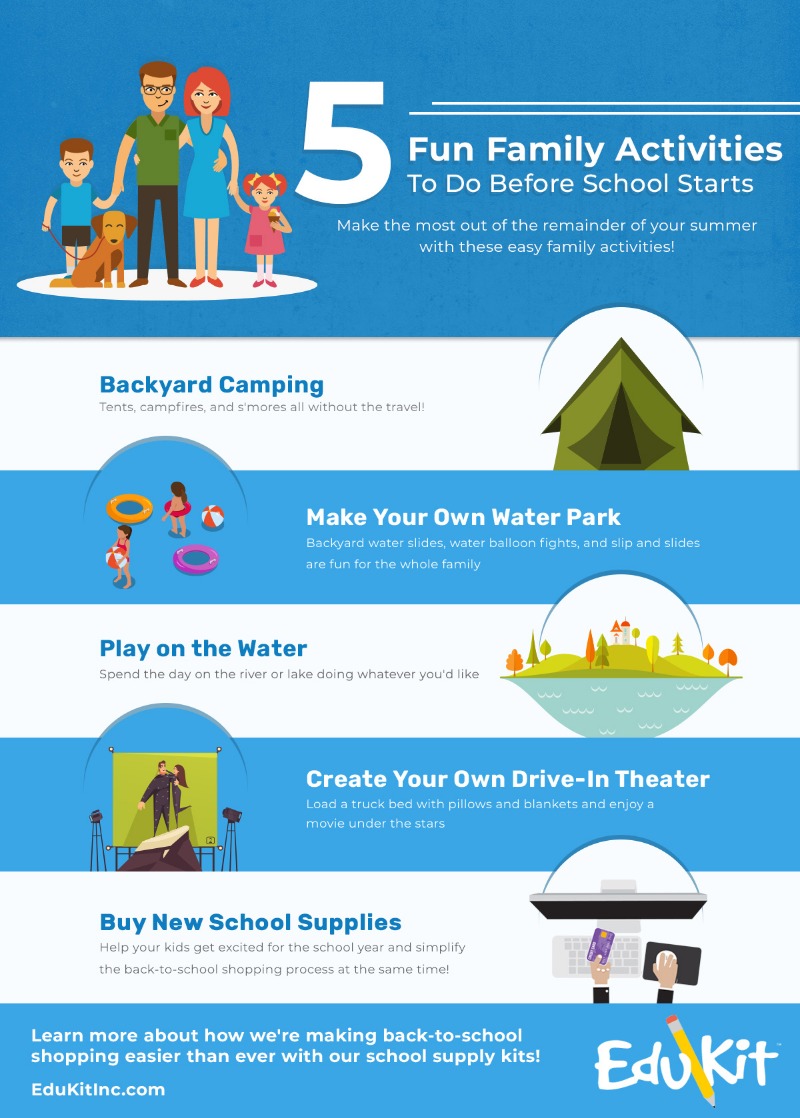 Backyard Camping
Even if you live in an area with mountains and camp-friendly areas, backyard camping can certainly be a fun alternative. If you want to avoid the hassle of packing up the car and trekking into the mountains while still getting outside, setting up camp in your backyard is the best of both worlds. Break out the camping chairs and start a bonfire in your backyard to make it the real McCoy. Kids will love getting to spend the night outside, and you have the pleasure of an easy cleanup in the morning!
Make Your Own Water Park
Even as many adventure parks and water parks remain closed throughout the U.S., the opportunity for water-filled fun is just as present. If you set your mind to it, you can turn your own backyard into the best water park. If you have a swing set with slides on it, hook the hose up to the top and create your own water slide. Natural hills and slopes also create the perfect place for a make-your-own slip-and-slide, and don't be afraid to break out the dish soap to make it extra slippery. We guarantee your kids aren't the only ones who will have a blast.
Go for a Swim
If the backyard water park isn't for you, but your kids still want to enjoy the water before school starts, make your way to the closest lake, river, or reservoir for a day full of fun! Fishing, swimming, paddle boarding, boating — the possibilities are endless! As a bonus, pack a picnic lunch to enjoy as a midday snack before enjoying the rest of the afternoon.
Create Your Own Drive-In Movie Theater
With movie theaters closed across the country, family movie night hasn't been the same for many families. If you're looking for a fun way to enjoy a movie as a family, try constructing your own drive-in theater! Use your own truck or borrow a friend's and set up a comfy, cozy truck bed full of blankets and pillows that your family will love. Stay in your own driveway or drive to your favorite park in town, set up your movie of choice on a laptop, and enjoy a relaxing evening under the stars!
Simplify Your Back-to-School Shopping
Even if the sensation is fleeting, the beginning of a new school year is oftentimes exciting for kids. From getting to see their friends more often to the promise of something new, you can lean into that excitement by completing your shopping for back-to-school kits from the comfort of your own home! Whether it be a new pair of sneakers they've had their eye on, an addition to their go-to outfit, or their favorite school supplies, preparing for the new school year can be a fun and rewarding culmination to summer!
Here at EduKit, we're committed to making the back-to-school transition as easy as possible with prepackaged school kits. Take advantage of the rest of summer with these fun family activities, and feel free to reach out to our team today to learn more about school supply kits.