5 School Supplies Every Elementary Student Can't Have Enough Of
With school in session across most of the nation, kids are already beginning to break in their school supplies. Every year, it doesn't take long to notice what your kids use the most. Whether they're participating in in-person learning or distance learning, the need for commonly used school supplies never changes.
Here at EduKit, we're proud to make school supply shopping easy with our school kit program that has everything your kiddos need to thrive in whichever environment they're learning in. Even then, it can never hurt to expect exactly what your kids need before they run out! In today's post, we'll discuss some common school supplies that every elementary student can't have enough of. Keep reading to learn more, and feel free to reach out to us to learn more about our school supply kit enrollment.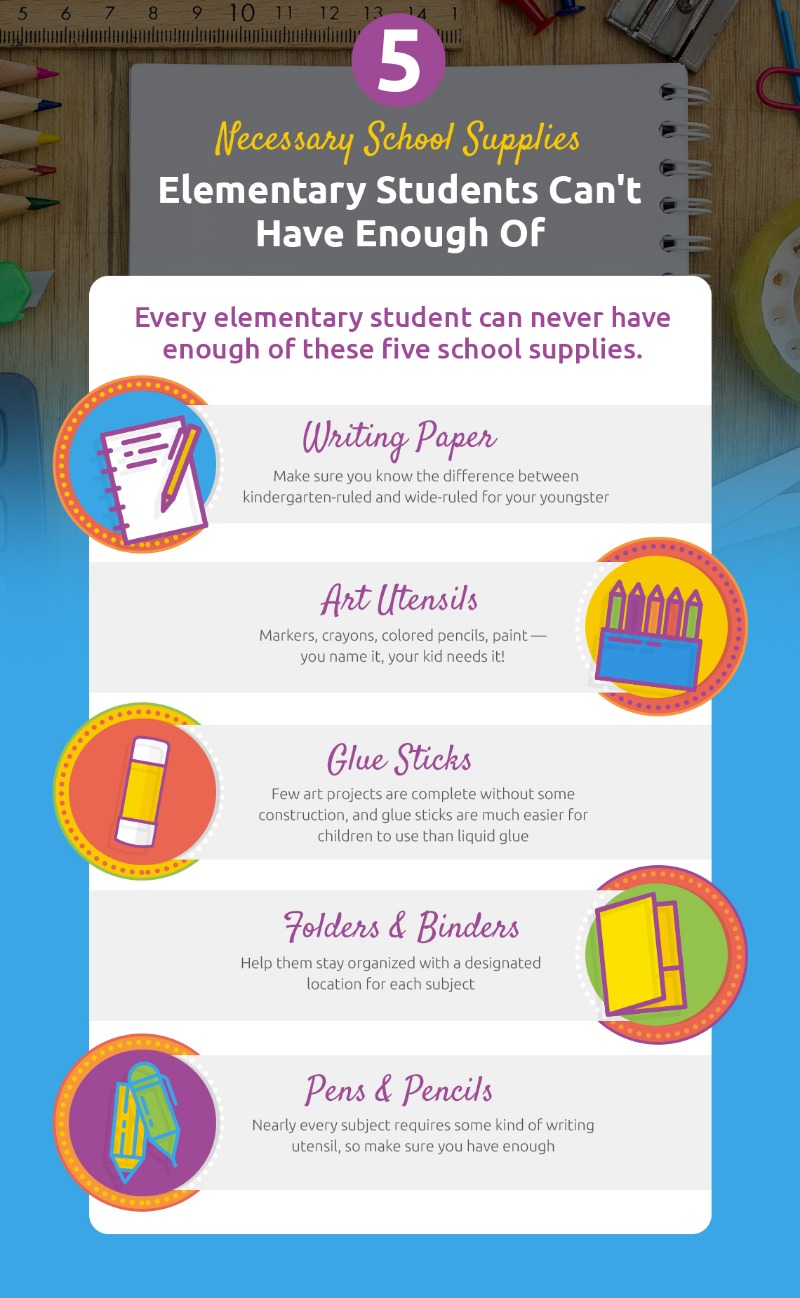 Writing Paper
It's important to remember that paper comes in many different styles, all of which could be used for a variety of elementary subjects. When it comes to writing, make sure you understand the difference between kindergarten-ruled, wide-ruled, and college-ruled paper. Kindergarten-ruled paper gives youngsters guidelines to write appropriately sized capital and lowercase letters; wide-ruled removes the guidelines while still allowing enough space for larger handwriting; and college-ruled is typically too small for elementary school students to write on. Make sure you have enough common school supplies like writing paper, so your child doesn't run out.
Art Utensils
Almost every elementary school student loves art. It allows them to express their creative side with a form of communication that appeals to them and that they are comfortable with. This typically means that art supplies are among the most used pieces of school supplies. From crayons and markers to colored pencils and water paints, there are so many fun ways to create art. Ensure that you have enough art utensils on hand to allow them to let their imagination run!
Glue Sticks
Speaking of art supplies, glue sticks are oft-forgotten, but always-necessary common school supplies to have on deck. Glue sticks are mostly used on art projects as they add extra elements in a variety of ways. They're far easier for young children to use than liquid glue (and cleaner, too). Kids can have a difficult time remembering to replace the cap on their glue sticks, causing them to dry out rather quickly, so it's important to have more than you may think you need!
Folders and Binders
Encouraging your child to remain organized from a young age can be beneficial in their overall ability to focus on their schoolwork and understand what needs to be done. One of the best ways to do this is with common school supplies like folders and binders. Giving them a designated place to keep all their schoolwork for each subject makes it easier for them to stay on track with assignments and find pieces of work when they need to. As a bonus, make sure you have a three-hole punch handy so that they can organize their binder even more!
Pens and Pencils
Of course, the most used school supplies are almost always writing utensils. From solving math equations and taking notes on a book to writing stories and planning presentations, every elementary student needs to have enough pens and pencils at their disposal. These common school supplies run out of ink and pencils break or wear down frequently, so make sure you have an extra stash for them to use when they need it.
These are just the basics to help you start thinking about what your child needs the most. While you could go through the back-to-school shopping dilemma year after year, EduKit's school supplies programallows you to avoid the hassle while equipping your child with these necessary school supplies and more.
Start the conversation with your school today so it can enroll for the upcoming school year. Reach out to us now to learn more about our limited-time cash-back options for our school supply kit program!