Easy Fall-Themed Snacks to Make with Your Kids | EduKit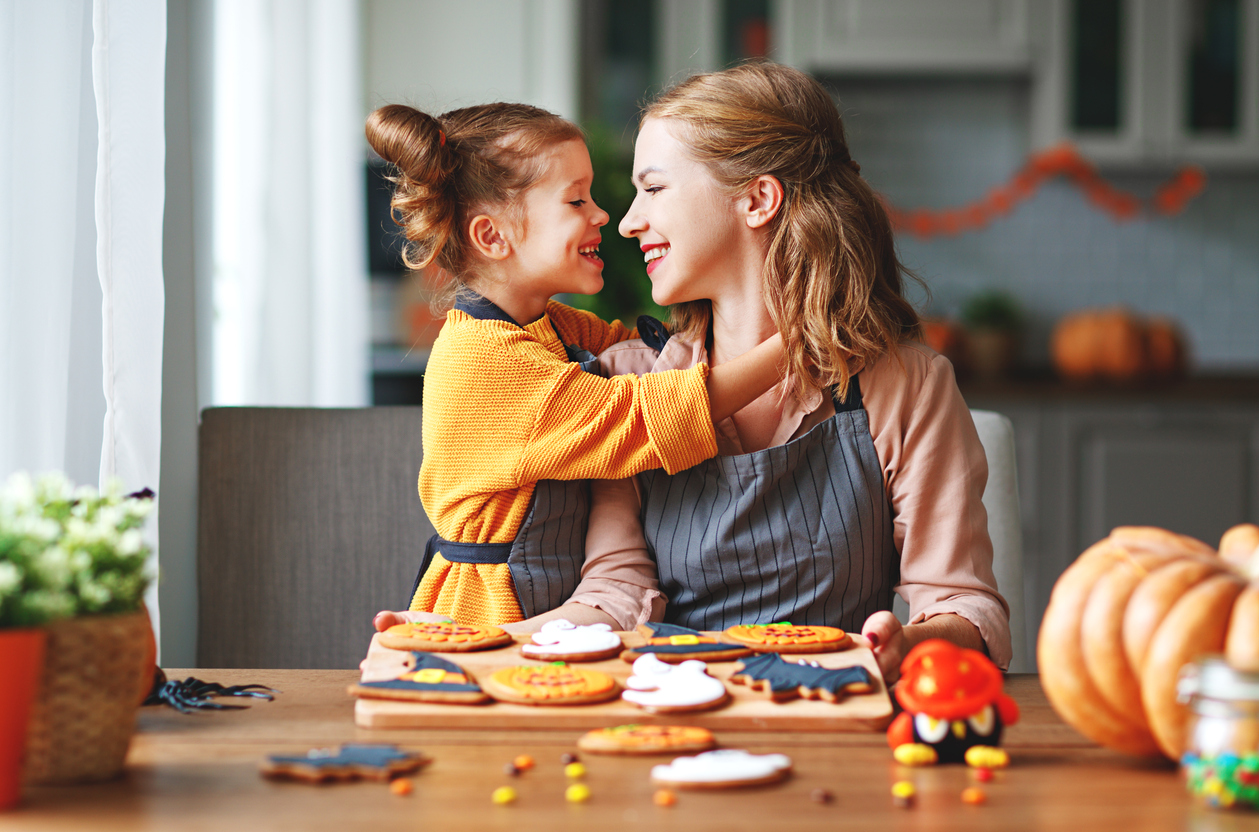 EduKit - Fall-Themed Snacks to Make with Your Kids
As the weather begins to cool, leaves start to change color and fall to the ground, and parents and kids alike slowly begin to return indoors from long days spent outside basking in the sun, many families start looking for creative ways to keep themselves entertained while cooped up inside and without relying on too much screentime.
One of the best ways to spend some quality time as a family this time of year is to create some fall themed snacks for kids. Making fall snacks for kids not only helps them ease into the coming months of spending more time indoors in a fun way, but also gives them a chance to learn their way around the kitchen while they help you make fun treats and snacks. Below, we'll go over the benefits of cooking with children of all ages and share some of our favorite easy fall treats for kids.
Benefits of Cooking with Kids
Of course, the biggest benefit of cooking with the kids is getting to spend more time with them and engaging in fun activities as a family. But did you know that cooking with your kids has some incredible benefits that help to boost their development? Before we jump into our list of easy fall snacks for kids for you and your family to make together, we wanted to share some of those benefits.
Cooking with your kids…
Cooking requires a lot of measuring and helps your kids learn different measurements – like cups, teaspoons, tablespoons – and they'll use fractions and addition, subtraction, multiplication, and division when cooking. And we can all agree that learning fractions by measuring spoons of sugar is a much more fun way to teach than writing numbers out on paper.
Improves their language development
When you cook, you expand your child's vocabulary because you're not using everyday words. You also label every ingredient, go over every step involved, have your child follow directions, and explain things in ways they can understand, all of which promote language skills.
Boosts their fine motor skills
Mixing ingredients, rolling out the dough, and using cookie cutters are amazing ways to increase your child's fine motor skills and sense of their own strength and control. Choosing treats to make with customization options, like rainbow salads, cookie decorating, or funny face sandwiches, is a great way to practice motor skills while having fun with the kids!
Advances their reading skills
Have your kids help read recipes, instructions, and ingredient lists to you to help them practice reading aloud. As they get older, you can ask them to read instructions out loud and then follow them to improve their reading comprehension.
Introduces them to science
Cooking involves quite a bit of science. What happens when certain ingredients are mixed? What happens if too much or too little of an ingredient is used? Get your kids to witness these reactions and try to predict what will happen too.
Improves their focus and attention span
Cooking requires focus and attention, and it helps your kids to build up these traits. If they're not doing either, their treat might not turn out. Don't be afraid to have fun and be a little silly in the kitchen with the kids. Presenting cooking and baking as an activity that you enjoy will allow your kids to feel the same and therefore keep them more focused and engaged.
Teaches them important life skills
Cooking is a life skill that's important for independence as we grow older. Set your kids up for success by teaching them everything from pouring their own glass of milk to making a sandwich to cooking an entire dinner.
Fall Themed Snacks to Make with Your Kids
Now that we know just how much of a positive impact cooking can have on your child's development, it's time to cover the reason we're all here – our favorite fall themed snacks for kids! These easy fall treats for kids will soon become some of your family's favorites.
Whether you head to an apple orchard to go apple picking as a family, get apples at your local farmers market, or pick some up at the grocery store, these are our favorite fall themed snacks for kids that use apples!
The perfect fall treat! Chop up apples, and create a yummy filling with cinnamon, brown sugar, white sugar, oatmeal, flour, and butter, bake, and voila! Apple crisps are a fun breakfast treat and a delicious afterschool snack.
Caramel apples are a staple fall treat but make them easier to eat by slicing up the apple before dipping it into the caramel!
Apples with peanut butter teeth
Slice apples vertically and spread peanut butter on each slice. Next, place de-shelled sunflower seeds in the peanut butter along the top and bottom sides of the apple to make it look like teeth!
Cut apples up into small and thin slices and spread them on a plate. Drizzle with honey, peanut butter, and/or chocolate, and top with anything you'd like! We suggest chocolate chips, raisins, and any nuts that your family enjoys.
De-core an apple, then fill it with a mixture of peanut butter, honey, and mini-chocolate chips, then slice the apple into thin slices horizontally!
Headed to the pumpkin patch and want to use your pumpkins for more than carving? These easy fall treats for kids are sure to be a hit!
Save the seeds while you're carving your pumpkin for a yummy and nutritious snack.
Use pumpkin puree combined with your other favorite dipping ingredients to make a sweet or savory dip! You can use chips or other veggies in this yummy treat.
Make pumpkin puree and add it to your favorite chili recipe to give your chili a sweet and earthy kick.
Pumpkin pancakes are a hit for any meal of the day! Again, you'll want to make pumpkin puree first, then add it to your favorite pancake recipe.
Pumpkin pie bites are like pumpkin pie… but better because they're bite sized!
And some of our other favorite snacks for those who want to expand beyond pumpkins and apples…
Caramel Corn
Cinnamon Sugar Tortilla Chips
Candied Pecans
Kale Chips
Peanut Butter Cups
Honey Nut Granola Bars
Maple Granola Parfait
Cinnamon Rolls
White Chocolate Cranberry Cookies
Zucchini Bread
While there are countless activities that you can do with your kids – who doesn't love a good puzzle or boardgame – creating homemade decorations for the upcoming holidays, or simply revisiting some long-forgotten books and toys that have been waiting to be played with since spring – there's just something about Autumn that always encourages us to spend a little more time in the kitchen. From cooking dinner to baking cookies, to whipping up some easy to make small snacks, as summer fades into fall, we always love spending a little more time cooking and making warm and hearty meals together. We hope you enjoy making these fall themed snacks for kids with your family too!